If you run ads on Facebook or Instagram or published an app that focuses on customizing the user experience by leveraging the data you collect through your app, you have probably been wondering what the impact will be of Apple's latest Privacy Update. In this post, I share my opinion on the potential impact and ways to deal with it.
What have companies been tracking, and why?
It will come as no surprise, that apps have been collecting your data and using it to either improve your user experience or share it with third parties to target ads or influence your behavior. But what kind of data have they exactly been tracking?
Most of the data being collected revolves around your personal information, including your email address, phone number, location, etc. but the more sophisticated developers, have found ways to leverage data like other types of apps you are using, when and how many times you log into an app or a unique number that identifies your iPhone including the model, and iOS software version, known as IDFA (Identifier for Advertisers).
While most apps, don't need all of this information to improve your user experience, the truth behind it is that companies like Facebook and Google, have been acquiring this data from them, to improve their own products. As you use your iPhone through different apps and browse on the web, all those events are trackable. When collected and analyzed, they can help build a profile of your behavior, which advertisers can use to serve you more targeted and relevant ads.
How will the update change my experience?
Once you update your iPhone to the latest iOS 14.5, you will be prompted to either "Allow" or "Ask App Not to Track" you. As you can imagine, with all of the fear-mongering that has happened in the last couple of years, a lot of people will automatically choose the latter option, which will have a dramatic impact on the business models of free apps, but most importantly the accuracy of products including Facebook and Google. If you decide not to be tracked, apps won't be able to access your IDFA, which limits their ability to track you. However, you will still get ads, but they won't be as personalized as you were used to.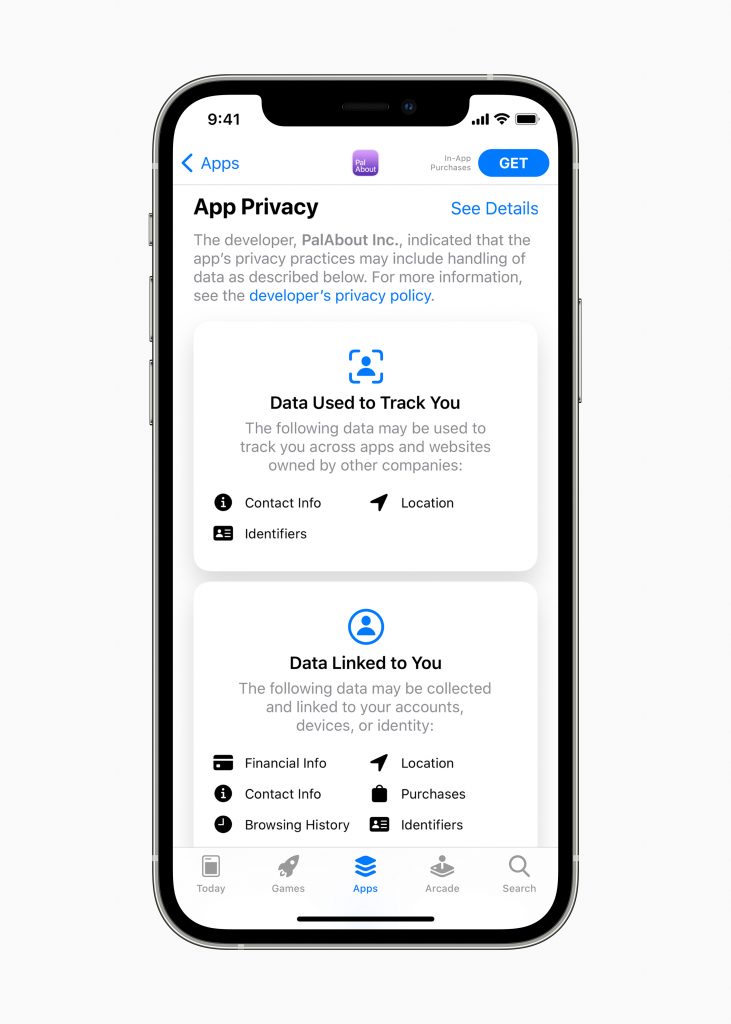 How will the Privacy Update impact companies?
Apple as the creator of this product, has been very vocal about protecting the privacy of their users, but as you can expect, they will probably benefit from this the most. As most companies will now have to make decisions on moving to a paid-model to generate revenues, Apple will benefit as they will take a 15 to 30 percent commission on all app and in-app purchases or subscriptions. And in the case, companies want to continue generating revenue through ads, Apple has already announced that they will improve their own add product called iAd.
For companies like Facebook, Snap, Twitter, TikTok and other companies who have build their business model around providing you with highly targeted ads, this will have a major impact. As they won't be able to create products that help their advertisers target audiences, they will have to pivot their business. Facebook has already focused on improving their direct commerce offerings on Facebook and Instagram, and will further invest in tools to allow online shopping to occur in their environment, potentially getting a larger piece of the cake than through ads.
With Google being the leader in the ad space, there has been a good reason for them to continue to develop their own apps, including Search, Maps, Chrome, Gmail, and Youtube. As your Gmail account already collects a lot of the data other companies collect through tracking, they won't be impacted as hard.
But what about the little guy?
Well if your app has tracked your users data to improve your product, you will have to start relying more on event-tracking and testing to figure out how to improve user experiences and create audiences. With Apple leading the way, Android apps won't be far behind as the pressure will increase for Google to make changes as well.
If you have been using platforms like Facebook, Instagram, Snap, etc. to target your audience, now more than ever you are going to have to ensure that you have your own ways of collecting data on your platform. Cookies, sales data, clickstream data, product data, will now all have to be connected together. For most companies, this means, that they need to start bringing in the data that has been stored with Google Analytics, Facebook, Shopify, and others. It will lead to more companies having to create their own data infrastructure and have data specialists on their team to create internal cohorts, analyze where users are coming from, and how your website or app is influencing their spending.
Thanks for reading 😉 , if you enjoyed it, feel free to share this post, it would mean a lot to me and it would help others to see the story. Let me know what you think by reaching out on Twitter or Linkedin. Or subscribe to my newsletter to stay up-to-date with my latest posts.